I have amazing sisters who all have young kids as well.  I love it when they pass on products they have found!  Here's a great idea that keeps crayons perfect for travel:
This product is fabulous because it is quick to see if you have all the crayons when it is time to put away, easy for your child to pull out a needed color, and nice way to organize and keep the crayons in good shape.  You could even use the strap to hang it on the back of a chair in front of your child or clipped to a carabineer.
Want to make your own?
Now if you are a little more crafty and want to make it, I found some great DIY instructions on SpunkyDIY for one.  I like that it closes with an elastic and a button.
      from SpunkyDIY
If a video is more your style, check out the DIY dish for their tutorial on crayon roll-ups.  Clear instructions on the video and super cute.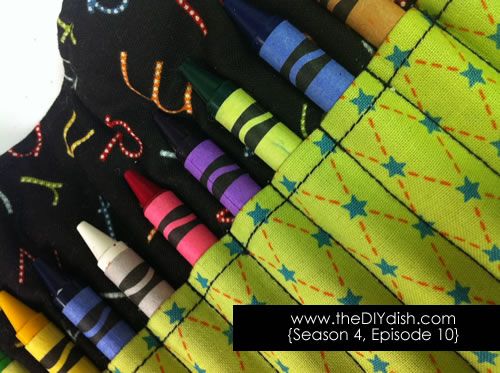 from DIY dish
If you are not a sewer, I found a DIY crayon roll for you as well!  Using duct tape…
             from scotchducttape.com
If you decide to make one yourself, let me know how it goes!  I'd love to see a picture.  I plan to also make one.